Customer Comments/Job Inquiries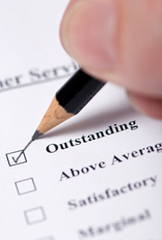 Our customers say that . . .
our indexers "are meticulous;"
[our] "indexes are well-organized and easy to use;"
our indexers "complete every indexing project on time or ahead of schedule;" and
"[our] pricing is very competitive."
If you think you can meet our customers' expectations, and you possess (1) a minimum of 3 to 5 years of professional indexing experience, (2) a B.A. degree (J.D. or equivalent for legal indexers), and (3) specific subject-matter expertise, then please
contact us
today. Come grow with us!
---